WEBINAR
A Deeper Dive: Understanding Your Customer Data
Understanding Your Customer Data
Your customer support tools can provide you with powerful, game-changing data about your customers and their interactions with your business - if you understand how to use that data. Learn how to integrate, analyze and transform your customer support data today.
Hosted by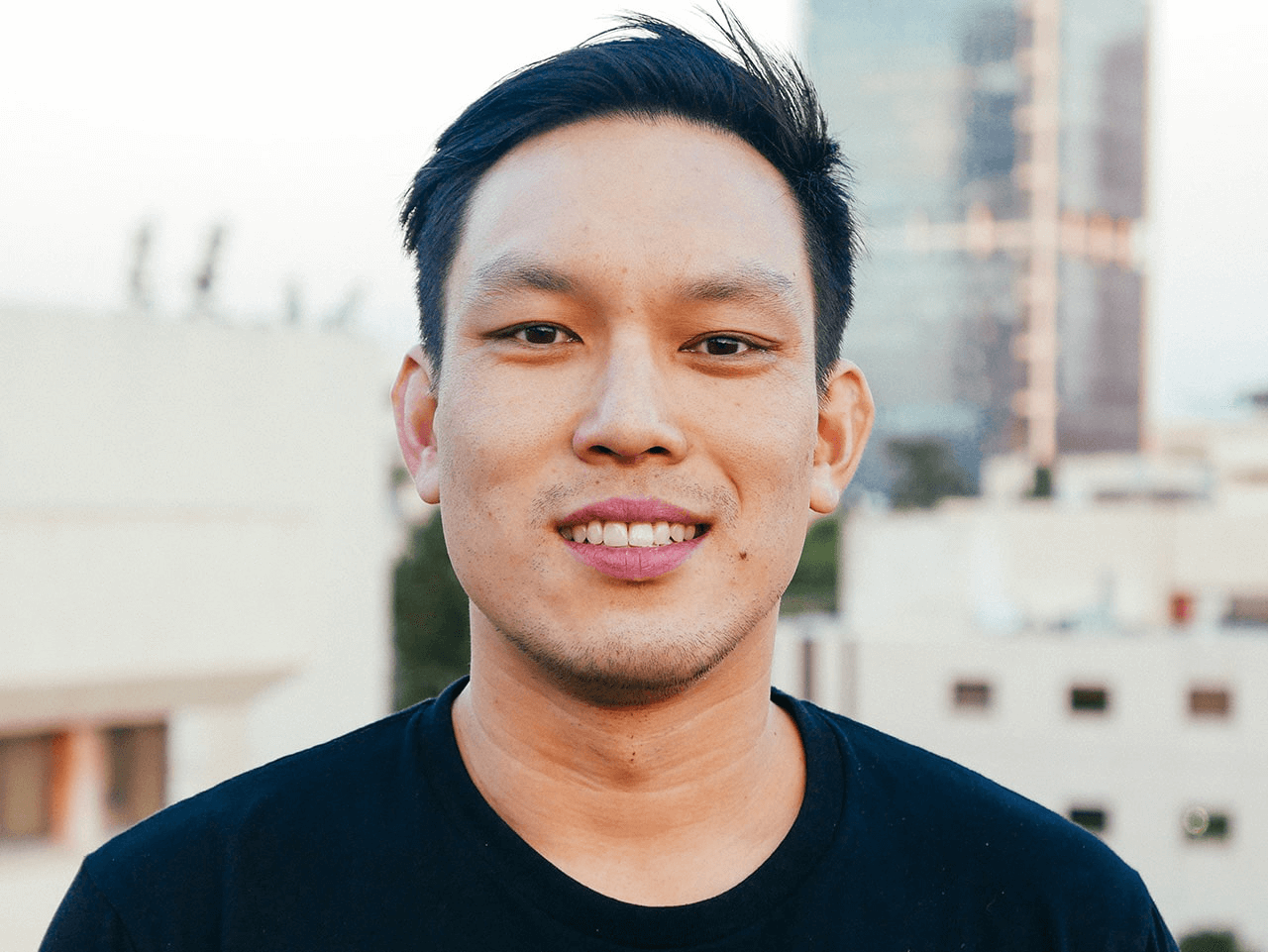 Jasper Wei
Account Executive, Xplenty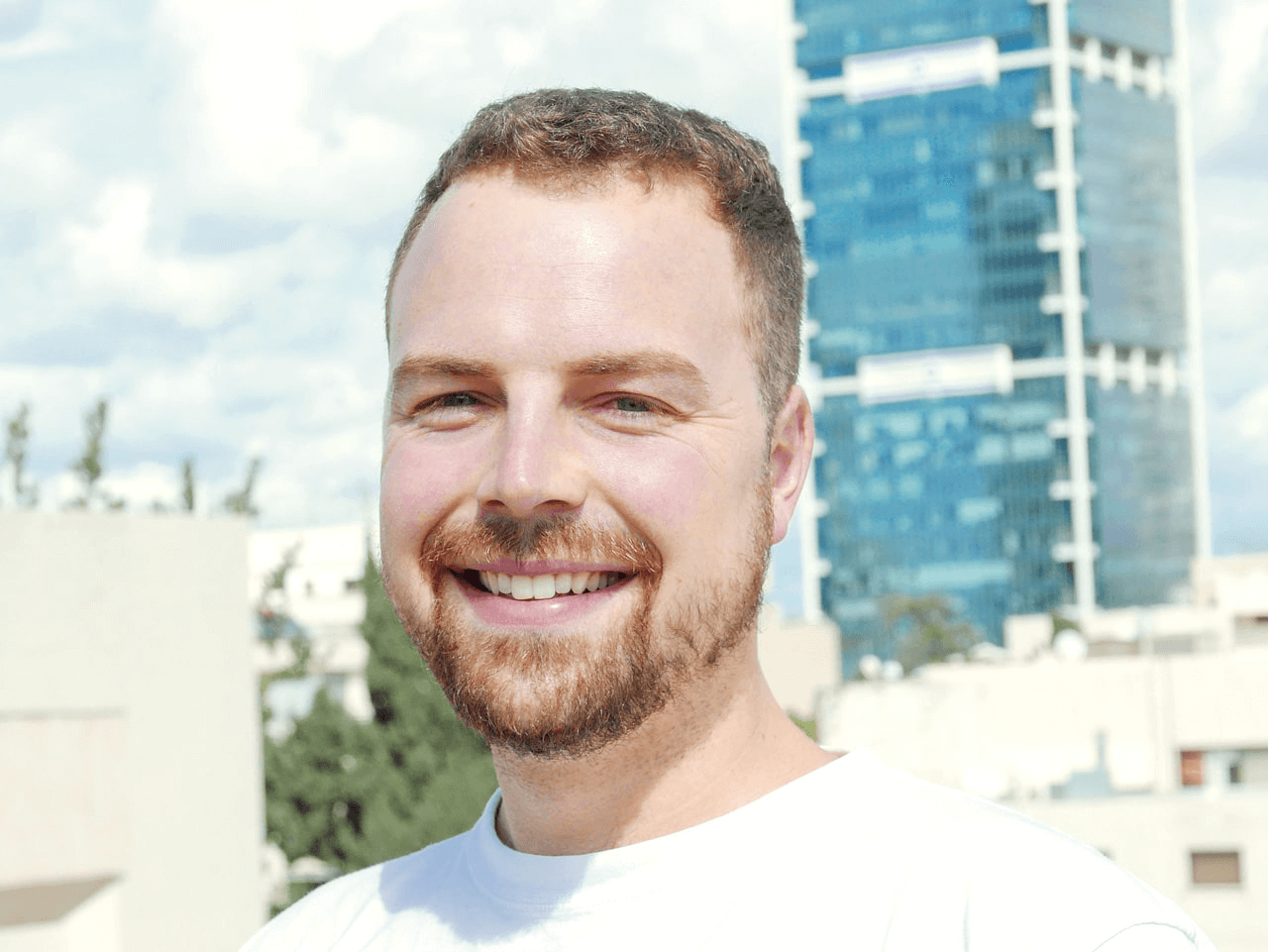 Ben Perlmutter
Solution Architect, Xplenty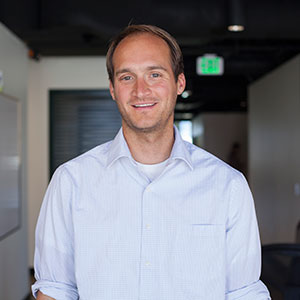 Jake Yoos
Data Analyst, Looker
You'll learn
Why it's important to integrate your customer support data with your data from other sources
How to integrate, organize and understand this data on Xplenty
How to gain key business insights from your customer support information
How you can use this data to track the success of your business efforts and make informed decisions
TRANSCRIPT
VIEW TRANSCRIPT
Getting started with Customer Source Data
Q: Why is it important to integrate your data sources and, more specifically, your customer support data?
A: With the growing number of cloud services and applications, there are now more ways to connect than ever before. However, all of this vital customer information is scattered across departments and distributed throughout numerous applications, services and databases, including marketing engines like Marketo, CRMs like Salesforce, payment processing services like Stripe and customer support tools like Zendesk.
If all of this data exists in a stand-alone system, it is just data. However, if it is integrated with data from other systems, it becomes insights that you can take action on.
In the big picture, then, these integrations empower organizations by providing them with a comprehensive view of their customers and their business, thereby allowing them to run more efficiently and minimize any ineffective efforts early on.
Integration Specifics: Sources and API
Q: What if my source has a SOAP API? How does that work?
A: We can connect to SOAP API's very easily. In our example, we demonstrated our full list of supported native connectors that we have, but as you can see below we also use a REST API connector to connect to a host of other services.
This allows us to connect to pretty much anything out there and it allows us to pull from SOAP APIs.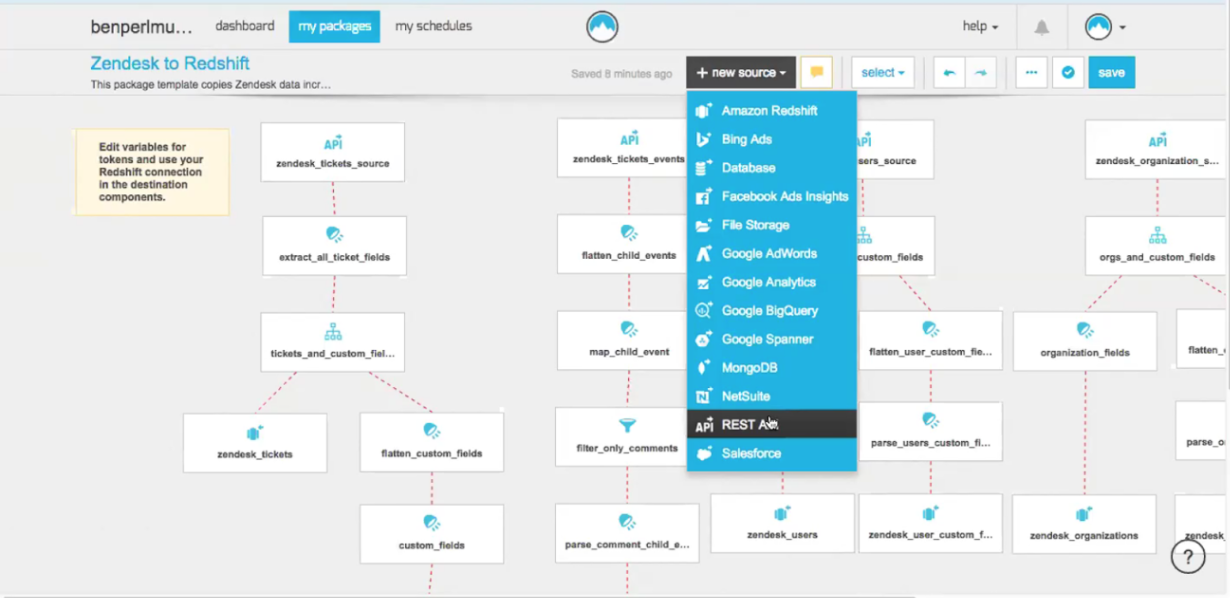 Looker: The Specifics of the Dashboard
Q: Are these dashboards mobile-friendly?
A: Looker is mobile-responsive, so you can just log in on your favorite browser via mobile and everything will stack nicely. You'll be able to have the same interactivity on mobile as you do on your laptop or PC.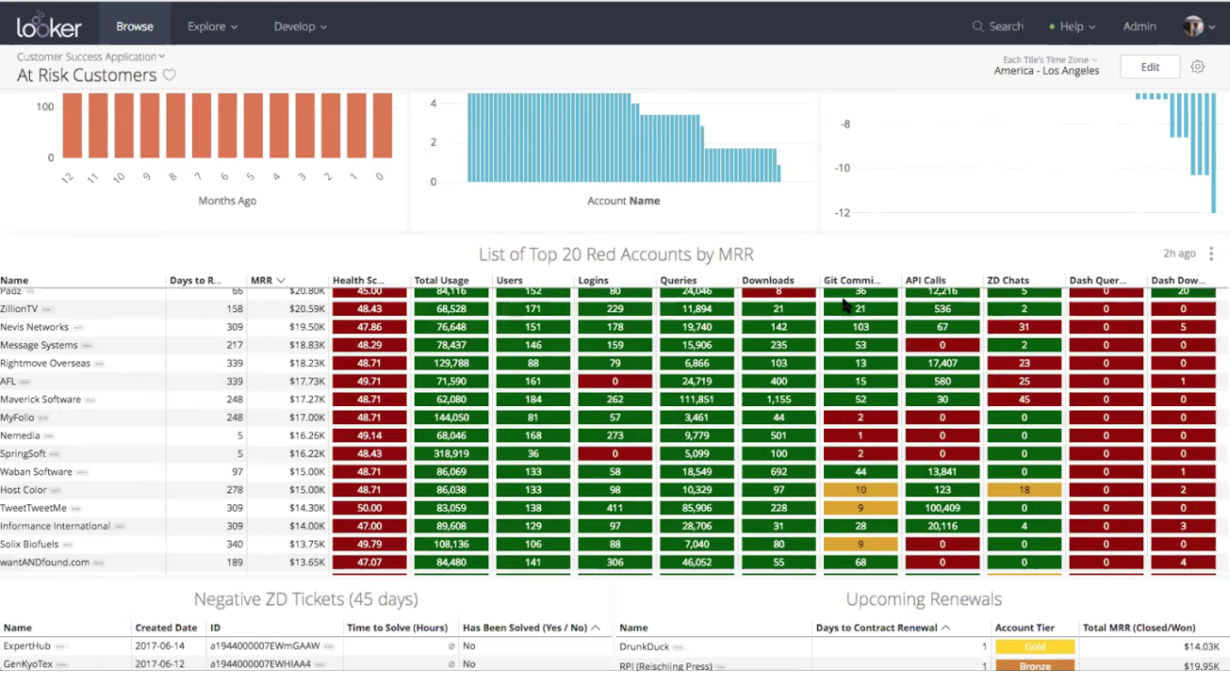 Q: How often can you refresh these dashboards?
A: Looker is really flexible with our modeling layer. You can set up the dashboard to refresh basically as often as you want in the dashboard settings - I think it's down to the minute.
If you're getting fresh data all the time, then, you can set your dashboard to refresh as often as Xplenty is piping into the database.
You can also set caching layers based on the ETL cycle so that not every query goes to the database, which means that users will get information that's relevant to them based on how often Xplenty is pushing data.
Xplenty Specifics: Creating Your Pipeline
Q: How do you do a multi-joint of the different sources? How would you actually architect that in Xplenty?
A: To join multiple datasets together, you simply have to go back to Xplenty's drag-and-drop interface (below).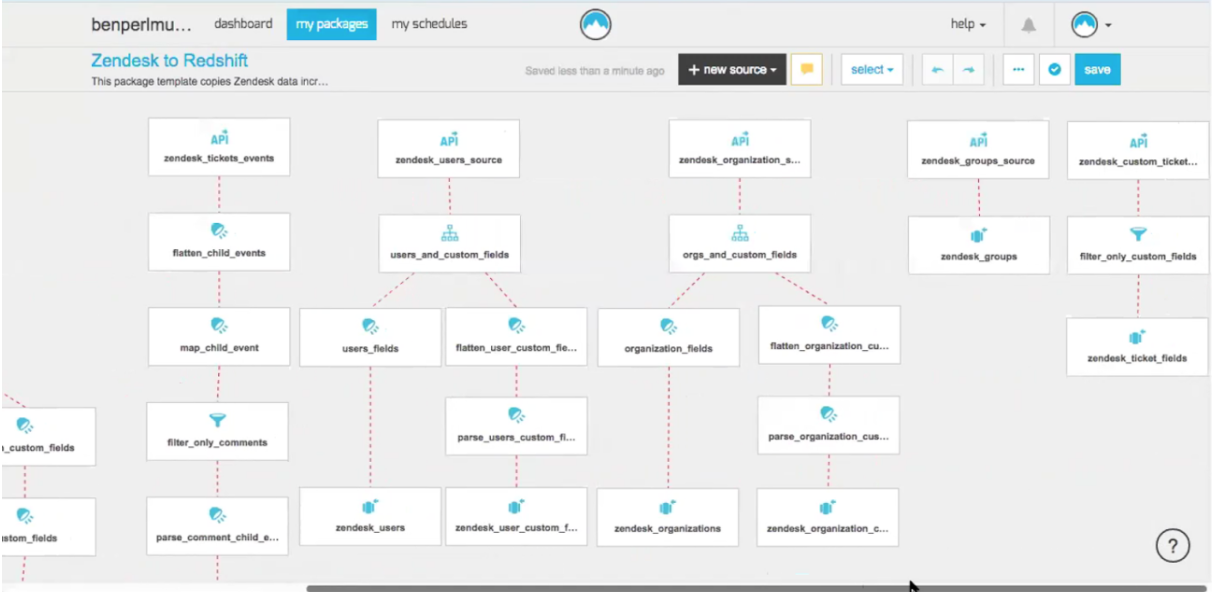 In the case that we were looking at during this webinar, we were actually taking individual end-points and breaking them out into separate pipelines because we were working with a data structure that included lists of items.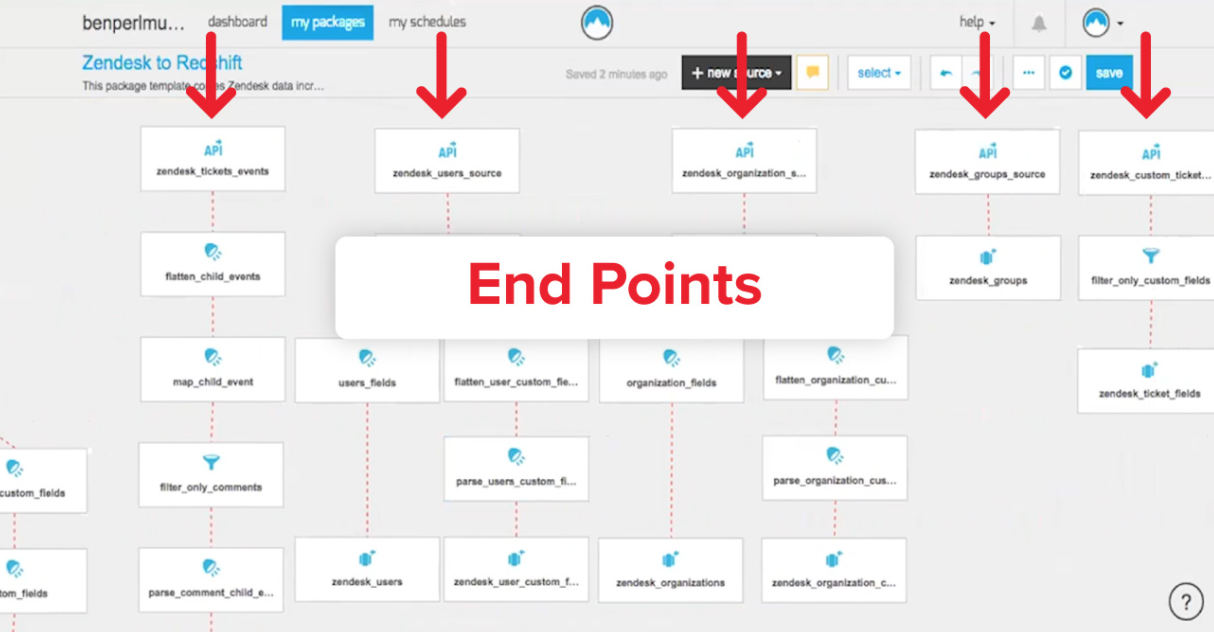 If you wanted to go the opposite direction - where you had disparate tables and you wanted to join them together and have one output - it would be a similar process with just some different components. Essentially, you would use that drag-and-drop interface to drag the pipes into each other and choose the field or fields that you would be joining.
Establishing Connections on Xplenty and Looker
Q: How do Xplenty and Looker establish connection to the datasource and Redshift, etc?
A: Looking first at Looker, the platform makes a JDBC connection. That makes it as easy as saying 'Ok where is the Redshift database where these tables live?' and establishing the connection.
Overall, we connect to a variety of databases so, while the common thread here is SQL, you'll be able to connect to anything SQL-speaking via JDBC.
As a sidenote, one of the nice things about Looker is that we can apply security at the Looker layer, which means that you can connect to the database with one user and Looker will apply filters - i.e. give access to tables and columns - based on that user's credentials.
With Xplenty, it's essentially the same thing when it comes to the database connections. They're all JDBC connections that we're connecting with, so in that regard it's pretty much exactly the same.
The other thing to keep in mind with Xplenty is that we're connecting to more than just SQL databases. We're also connecting to things like:
Amazon S3 or Google Cloud Storage
SMTP blob storage
Tools like Salesforce
Google Analytics, Google Adwords, Bing Ads.
In these cases we're connecting via the OAuth API protocol. You log in with your username and password, and in the case of a REST API connection, you follow directions that are specific to the service. A lot of times it's using an API token, or it might be using your username and password or using an OAuth type of flow. There are different ways to go about it but it is basically always possible.
Overall, Xplenty and Looker can help you prepare your data and turn it into insightful information that you can take action on. Schedule a conversation with one of our experts to talk about how these services can help your business today.
READ MORE