Make Effective Campaigns
Omnichannel marketing
By integrating all of your marketing sources, including social media data, analytics and CRM data, Xplenty ensures that your marketing information is up-to-date, transparent and accurate.
Data-driven insights
Get big picture, actionable insights from your campaigns and use them to increase conversions and improve your marketing strategies.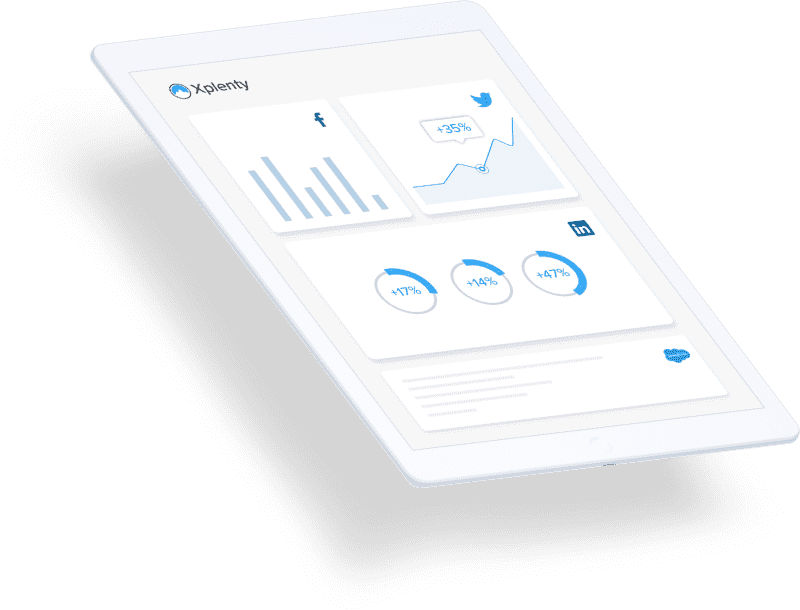 "Xplenty makes it much easier to extract and analyze data from disparate systems. More importantly, it gives us back our time to focus on making decisions and taking action based on insights."
Alex Townsend
Senior Business Analyst


,

iCharts
Email




john@datatransit.com

Phone no.




343-4647878

Name




John Blake

Location




N/A

Company




N/A

Age




N/A

Position




N/A

Gender




N/A

Status:

Updated
Enrich Your Marketing Database
Data Enrichment
Xplenty can integrate your data enrichment tools so that your marketing automations are always up-to-date and your customer information - including email address, phone number and job change - is always complete.
Targeted Communication
Once you have enriched your customer data, Xplenty can help you store it in a CRM - such as Salesforce - or in any other data repository for future use. This will allow you to send targeted, effectively segmented communication without spending any extra time or resources.
"We are currently using Xplenty for many of our ETL needs ingesting Google Adwords and Analytics, Facebook and Bing, among others, into our Redshift Data Warehouse. What sold us on Xplenty was your ability to keep the API's updated and in sync. We don't have to keep updating things on our end every time Google makes a change. The pipe doesn't break when using Xplenty."
Matthew Greger
Director of Technology


,

Diray Media
Get Personal
Smart Segmentation
By allowing you to connect relevant sources - including customer data, advertising data and CRM data - Xplenty can help you fully understand your audience and target personas. Use this understanding to create better automations and improve both engagement rates and user experience.
Personalized Emails
Emails are one of the most important, consistent forms of communication that you have with your customers. Use your optimized data and segmentations to send highly personalized emails that will improve your click-through rates and increase ROI.
"Xplenty's Salesforce integration has allowed our analysts to clean and transform our Salesforce data in a repeatable, easy-to-modify way. It lets us spend more time learning from our data instead of working on it."
Fabio DeSousa
Product Development Associate


,

Pack Health
Scale Your Efforts
SEP
30
12:15
Send Newsletter
Smart Campaigns
By effectively automating your marketing efforts, you can maintain consistent, efficient communication with your customers. This will not only improve UX but also free up your time for other tasks and projects.
Prolonged Lifecycle
Communication that anticipates needs and exceeds expectations can increase brand loyalty and customer satisfaction, encouraging repeat purchases and making the lifecycle of each customer much longer.
Start Your Free Trial
Free 7-day trial. Easy setup. Cancel any time