Since its release in 2007, Heroku has risen to become one of the top PaaS (platform as a service) tools for building web applications in the cloud. Organizations such as Product Hunt, Toyota, Zapier, and Macy's have all used Heroku to rapidly and easily deploy powerful web apps to achieve their business objectives.  
Like many technologies, Heroku changes rapidly, and it's important for developers to stay as up-to-date as possible. Heroku conferences are an excellent way to refresh your Heroku knowledge and network with some of the leading experts in the field.
The good news is that there is no shortage of Heroku events and conferences to attend in 2020. Below, we'll discuss 5 of the top Heroku conferences for 2020.
Table of Contents:
One caveat: these events aren't strictly about Heroku—the platform is too simple and straightforward to justify the need for a multi-day annual conference. However, the events below are either sponsored by Heroku or directly relevant to the concerns of developers using Heroku. 
Date: February 11-12, 2020
City: Redwood City, CA
Location: Fox Theatre
Startup Grind calls itself "the most important event for startups, tech leaders, and big brands at the forefront of innovation." With more than 10,000 attendees every year, it's easy to see why.
Heroku is an ideal tool for startups for several reasons: it's lightweight yet powerful and fully managed, which means that users don't have to spend time on the nitty-gritty details of servers and hardware. It's no surprise, then, that Heroku has chosen to sponsor the Startup Grind 2020 conference.
Startup Grind 2020 will feature 60 different speakers about a variety of topics in entrepreneurship and innovation. With hundreds of investors in the audience, the event could be the perfect opportunity for startup founders to catch the right person's attention. Full-access passes for attendees cost $355 through January 14.
Date: February 19-21, 2020
City: Atlanta, GA
Location: Georgia World Congress Center
DevNexus is a conference for professional developers that seeks to "connect developers from all over the world, provide affordable education, and promote open source values."
It's no surprise, then, that Heroku has become a "Platinum Sponsor" of the DevNexus 2020 conference. According to the company's website, Heroku plans to "celebrate 25 years of all things Java" at the conference.
The DevNexus 2020 schedule has already been released, and it looks to be action-packed. The event will feature more than 100 speakers from around the world lecturing on topics such as:
Seven Principles of Productive Software Developers
Responsible Microservices Architecture
Best Practices with Elasticsearch
An Introduction to Kotlin
Kubernetes (and OpenShift) for Developers
Building Reactive Enterprise Angular Apps with NgRx
10 Java Security Practices They Didn't Teach You In School
Many of the events take place concurrently—so you'll have to choose wisely in terms of which ones you attend! 2-day conference passes are available until February 5th at a price of $495.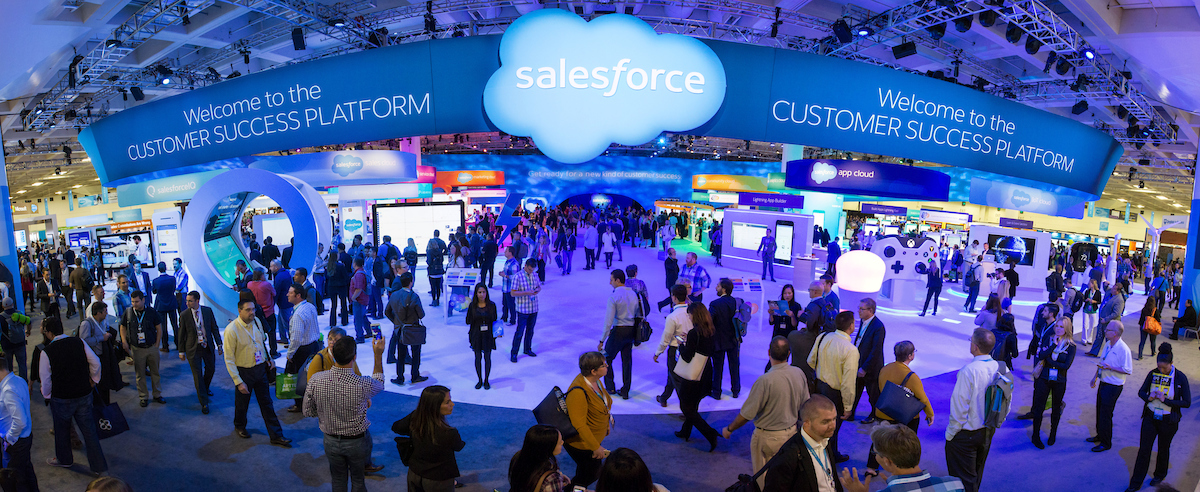 Date: November 9-12, 2020
City: San Francisco, CA
Location: Various
Upon its initial release in 2007, Heroku was such a success that the platform was acquired three years later by customer relationship management (CRM) software company Salesforce.com. The price tag? A cool $212 million in cash.
The Salesforce annual conference is called Dreamforce, uniting over 170,000 people during a four-day event at multiple locations throughout San Francisco. At Dreamforce 2019, Heroku provided a "Heroku Trail Map" guiding attendees to Heroku-related talks and workshops. This year, the Heroku sessions at Dreamforce included:
Introduction to Heroku: Deploy Your First Heroku App
Leveraging Heroku for Data Agility When You Have Multiple Salesforce Products
Quickest Path to Heroku for Salesforce Teams
Manipulate and Integrate Salesforce Data with Heroku Connect and Heroku Postgres
How iFood Built Brazil's Leading Digital Food Delivery Ecosystem with Heroku
Details about Dreamforce 2020 are thus far hard to come by, since the 2019 event has barely wrapped up. Still, we feel confident in saying that Heroku will again have a major presence at the event. Full-conference passes for Dreamforce cost between $1,599 and $2,299.
Date: TBA, likely Q4 2020
City: TBA, likely Canada
Location: TBA
Node.js is an open-source server-side JavaScript runtime environment that enables developers to run JavaScript outside the browser. Did you miss the boat on registering for Node+JS Interactive 2019? No problem—there's always next year.
Because it's often used to build web applications, Heroku is a natural partner for Node.js. Indeed, the Heroku website features a tutorial for getting started on Heroku with Node.js. Heroku and Salesforce are "Gold Sponsors" at Node+JS Interactive 2019, which includes many talks about Node.js and web development in general. 
Previous iterations of the Node+JS Interactive conference have taken place in Montreal and Vancouver (in December and October, respectively). Node+JS Interactive 2020 will likely follow this pattern by taking place in Q4 2020 somewhere in Canada. Standard full-price tickets for Node+JS Interactive 2019 cost $699, with early bird and student discounts.
Date: November 17th-19th, 2020
City: Houston, TX
Location: TBA
The Ruby programming language is highly popular among web developers for its practicality, flexibility, and clarity. Ruby forms the backbone of the open-source web application framework Ruby on Rails (or just "Rails"), which has been used by companies such as Airbnb, GitHub, and Bloomberg to build powerful web apps.
Rails developers frequently use Heroku to rapidly deploy their applications—just check out the guide "Getting Started on Heroku with Rails 5.x" on the Heroku website. It only makes sense, then, that Heroku was a sponsor at RubyConf 2019, the world's largest event for companies and individuals who program in Ruby. Keynote speakers at this year's RubyConf in November 2019 included Ruby expert Sandi Metz, as well as the language's creator himself, Yukihiro Matsumoto.
If history repeats itself, tickets to the 2020 event should cost around $400 for individuals and $700 for corporate attendees.
Final Thoughts
Xplenty is the leading cloud-based ETL solution that creates simple, visualized data pipelines to your data warehouse or data lake. If you need an ETL solution that integrates with Heroku, contact us here!
Related reading: Xplenty and Heroku Connect: A Complete Salesforce Integration Solution
You might also like our other posts...